K•REAL

®

BY AKER BIOMARINE
K•REAL

®

is a leading B2B krill oil brand, offering customers around the world quality krill oil products for over a decade. Since 2018, K•REAL is part of Aker BioMarine, the world's largest krill harvesting company and biotechnology innovator based in Norway.
Aker BioMarine is listed on Oslo Stock Exchange, the company develops krill-based ingredients for human and planetary health.
TO IMPROVE HUMAN AND PLANETARY HEALTH
OUR STORY
We are a biotech innovator and Antarctic krill-harvesting company, dedicated to improving human and planetary health. To us, it makes no sense to take something out of the ocean to improve our health, if it simultaneously compromises the health of the ocean. Ensuring the well-being of the krill biomass and contributing towards a thriving Antarctic ecosystem are among our core priorities.
OUR VALUE CHAIN
Our fully transparent value chain stretches from pristine Antarctic waters to our Montevideo logistics hub and
Houston production plant before making its way to customers around the world.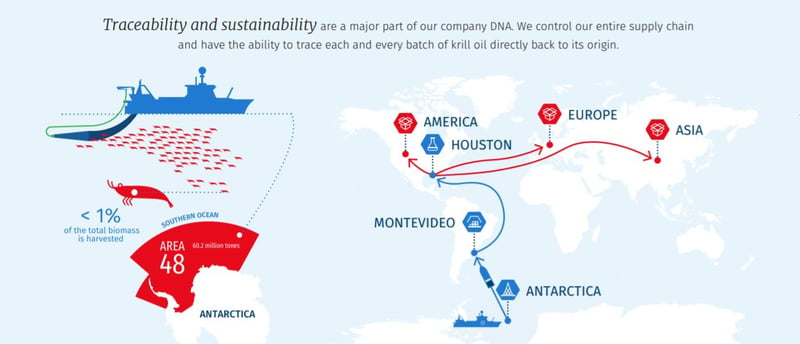 EXTRACTION TECHNOLOGY
MSO®
K•REAL® krill oil has many benefits and advantages attributed to its source, residing in the Southern Ocean, on one hand, and its unique phospholipid composition on the other hand, resulting from its proprietary extraction method. K•REAL® is produced using cutting-edge MSO® technology. This Multi-Stage Oil extraction is an innovative technology that assures high-quality oil with superior organoleptic properties, leading to an improved sense of purity, potency, consistency and freshness for the final krill oil product. The Multi-Stage Oil extraction process assures the extraction of high quality krill oil rich in omega-3 EPA and DHA in its natural phospholipid form.
SCIENCE & INNOVATION
SCIENCE & INNOVATION
At Aker BioMarine, we work systematically to increase the awareness of our krill oil products like K•REAL® . Our science- and innovation department is therefore focused on helping our customers raise awareness of phospholipids and document the distinctions between regular omega-3 fish oil and krill oil, this is what defines our uniqueness. This is impossible to achieve without actively engaging with customers, consumers and the scientific community. Together, we push krill research forward. We have also technical and commercial employees located close to our customers and main prospects that understand the customers, the consumer dynamics and the regulations. We continuously develop
new research and science that underpins and supports the product claims and marketing messaging.
SUSTAINABILITY & TRACEABILITY
FRIEND OF THE SEA CERTIFIED
The krill fishery in Antarctica is regulated by the Commission for the Conservation of Antarctic Marine Living Resources (CCAMLR) who sets limits on the fishery. The aim is that the fishery leaves enough krill to ensure a healthy breeding population and also that there is enough krill for the predators like penguins and whales. All catches of Antarctic krill are reported to CCAMLR, the commission uses a precautionary approach designed to minimize the impact on the ecosystem.
Aker BioMarine has been a front-runner in establishing new commitments to protect the ecosystem in which we operate.

K•REAL products are Friend Of the Sea certified and fully traceable from catch to capsule.

Your krill oil supply journey starts here
LET'S CONNECT
We're a partner who brings valuable insights, introduces new market opportunities, and guides our customers for growth and product expansion. Let us know what's on your mind.